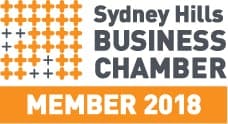 First year in trading
A year later Darren and I have renewed our membership for the Sydney Hills Business Chamber.  We joined the Chamber before we even had an office to work from.  We knew that Escape Rooms was a relatively new concept in Australia.  So we thought it would be a good idea to join early to start the education process of what an Escape Room is all about and how it can be used as a useful tool for team building experiences.
Over the past 12 months, not only did we fit out our office for Elude Escape Rooms in September, 2017.  We opened our first Escape Room in November, 2017 utilizing some of the wonderful business chamber members as testers for our room.
March, 2018 saw the opening of our second escape room and along with that has come some rewarding clients.
Successes within the Business Chamber
We have had dealings with a few of the Sydney Hills Business Chamber members.  Teams from International Production and Taylor Nicholas Hills have done team building with us and working with their coach also a Sydney Hills Business Chamber member John Drury.  John observed the teams from the other side of the cameras to provide valuable feedback to the teams. Along with various individuals from the Chamber bring their families out to challenge their skills.
We have partnered with other Business Chamber members like Rapport Leadership. Bringing their clients out to us.  With great feedback from the CEO of Ecco Shoes and Peter Kristensen on their team building afternoon. To working with Hills Grammer School to provide co-curricular activities for Year 11 & 12 Students.
We have been proud supporters of Charity Events promoted through the Chamber like Hills Relay for Life- fundraising by utilizing our Beat the Box and The Hills Winter Sleepout.
Elude are also providing activities for guests at the up and coming Orange Blossom Festival.  Yo-Hu team Young and Hungry 18-30 year old entrepreneurs with the Chamber. Emma Bonaccordo of Elude Escape Rooms is a Yo-Hu member.
Meeting regularly with like-minded business people, who share a passion for their own business. That support other local businesses has definitely been a distinct advantage for our business over the past 12 months and highly recommend it.
The Chamber has been a great network for both of us, it has help us to develop our business and grow ourselves personally too.  Everyone in the Chamber are so friendly and helpful. Members offering us advice and guidance as we got started &providing contacts for business support.
If you are not part of a business chamber, I would encourage you to go along to visit and see what they are all about.
If you would like to know more details, check out our website at eludegames.com.au
#SydneyHillsBusinessChamber #TeamBuilding