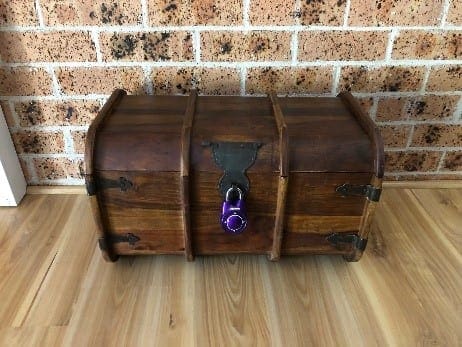 Elude Escape Rooms & Hands Across the Water
Elude Escape Rooms have reversed the concept of an Escape Room and made some gorgeous Treasure Chests incorporating a 15-20 min escape the box experience.
We are offering to all of our customers, to test your skills and see if you can Beat the Box.  We have these setup in our reception area so anyone coming to participate in an Escape Room experience can also have an extra little challenge.
All you have to do is Sponsor us for the Hands Across the water Charity Bike Ride.
If you have not been to Elude Escape rooms before now is the perfect opportunity not only will you have a lot of fun with some family, friends or work colleagues you will be helping to support Hands Across the Water.
Elude Escape Rooms are also donating $20* from every booking made with us who use the code: HANDS
*This does not count towards your Beat the Box sponsorship.
Hands Across The Water
Hands Across The Water, was originally formed after countless Thai children were left alone and homeless by the 2004 Boxing Day tsunami. Former police forensic specialist Peter Baines, working with the tsunami disaster victim identification team, was deeply touched by the number of children affected by the natural disaster and was inspired to establish an organisation that could make a real difference. In late 2005, a team of committed individuals with the desire to help others formed Hands Across The Water.
This charity was unlike many others, it was nimble, entrepreneurial and strived for goals that many thought were unattainable. Just over 12 years later, Hands has raised more than $20 million for the children and communities in Thailand and now cares for more than 350 children throughout the country.
The reason for the charity's success is two-fold. Firstly, they don't rely purely on donations. Instead, they create meaningful shared experiences for everyone involved with hands – experiences that truly provide food for the soul. Secondly, they believe in charity in the true sense of the word. This means:
Care comes without conditions
Don't seek to impose a religion or belief system upon those we support
Give children the chance to grow according to their own beliefs and traditions
Plus, 100% of donations go to the kids and their communities. No donors' money goes to administration in Australia, staff costs, marketing or fundraising.
Sponsorship
Darren and Julia from Elude Escape Rooms have signed up to help raise money for Hands Across the Water by doing their 2019 Charity Bike Ride which is 500km across Thailand finishing up at one of the 7 homes that Hands Across the Water have built for these children.
We thank you from the bottom of our hearts for your kind donations and support of this amazing cause.  We completed the ride and raised over $10,000 for the orphanage.