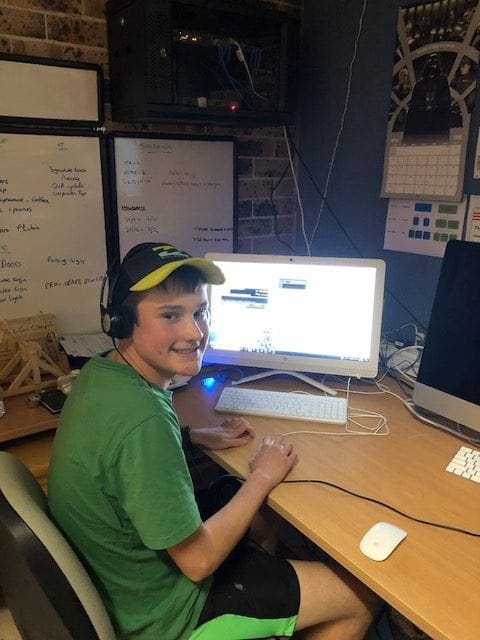 One very happy Birthday Boy!
We had the pleasure of having one of our repeat customers Luke come back as a GamesMaster for some of his family's game organised by his wonderful mother Belinda as a very special treat for Luke'e Birthday.
We asked Luke if he would write a few words about his experience with us and this is what Luke wrote:
Elude Escape Rooms GamesMaster Experience.  Elude Escape rooms is an extremely fun and entertaining place. I have recently participated in both rooms, (Framed and Perpetual motion) and they are definitely my two favourite rooms I have done.

I also recently got to be a GamesMaster for some of my family members as they attempted the room. Being GamesMaster was an extremely fun job, the technology, software and clue delivering systems is designed really well.  The Games Master's job is to deliver clues to the participants in the room when they need some help.

The GamesMasters job is to reset the room after the participants are finished. Setting up the room requires great attention to detail and memory. Making sure everything is in the correct spot for the next participants.

The rooms at Elude Escape Rooms are fun but will also challenge your ways of thinking.  The GamesMaster is there at anytime ready to deliver a clue when you are stuck on a puzzle.

The staff at Elude Escape Rooms have such a strong passion making sure that the customers have a fun and exciting experience.

Elude Escape Rooms is easily the best escape room I have ever done and my GamesMaster experience was extremely awesome.
Luke loves Escape Room so much, that he regularly sets challenges for his own family by setting up mini escape room experiences within his own garage testing their skills.
Thank you to Luke for such a lovely appraisal. We are so pleased that you enjoyed both of the rooms. Plus having fun as GamesMaster.  I'm sure when you are old enough you will working for an Escape Room company either that or running your very own Escape Room business.
Anyone wishing to experience what Luke has done feel free to contact us on info@eludegames.com.au