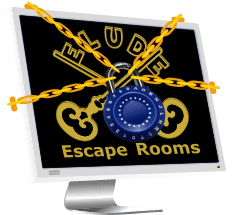 Missing the Escape Room Experience?
Try an online puzzle experience from the comfort of your home.
Play by yourself or with a team.
Some of the games are created by our fellow Escape Room owners.
The others are the same puzzles as our Mystery Mail series.
Buy Now Play Later
Your unique code can be activated at any time.
Continue at any Time
Your unique code will resume the game where you left off.  
Play with Friends
Share your unique code to play together.